What is

LASIK Surgery?

LASIK surgery is a procedure that uses a laser to gently reshape the cornea and correct nearsightedness, farsightedness, or astigmatism. The procedure itself takes around 15 minutes, and you'll notice results in as little as 24 hours. LASIK and other refractive surgeries like SMILE, PRK, and ICL are virtually painless, but the results last a lifetime.

At Carrot Eye Center, our years of experience guide our approach to each individual LASIK procedure. We will completely customize your laser vision surgery to your individual needs.
How Much Does LASIK Eye

Surgery Cost?

The cost of your LASIK eye surgery will depend on several factors, including the specifics of your procedure. At Carrot Eye Center, we don't let our commitment to being the best overshadow our effort to make our services as accessible and affordable as possible. We offer easy payment and flexible financing options to help make your life-changing laser eye surgery a reality.
SCHEDULE A

FREE CONSULTATION
Am I eligible for
LASIK?
In order to qualify for LASIK surgery, you need to be over 18 years old, have had a stable prescription for over two years, and suffer from nearsightedness, farsightedness, or astigmatism. If you meet these qualifications, we'll look closer at your medical history and overall health to determine if LASIK or another refractive surgery is right for you.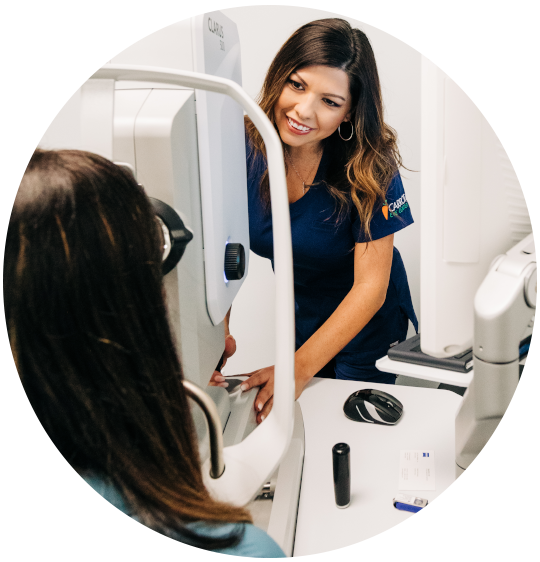 Carrot Eye Center in

Mesa

At Carrot Eye Center, we refuse to compromise when it comes to the care we provide to our patients. Our office is designed to not only make your appointments efficient, but enjoyable too. We believe in providing advanced procedures using cutting-edge technology and doing it with a smile.
Benefits of LASIK
in Mesa
Life with glasses and contacts can be uncomfortable, inconvenient, and flat out annoying. If you want to see clearly without corrective eyewear, LASIK is a great option to consider. Laser vision correction can help improve your physical activity level, increase your independence, and improve your overall quality of life.
Whether you live in Mesa or one of the surrounding communities like Gilbert or Tempe, there's plenty to do and see. LASIK gives you the opportunity to experience your surroundings with crystal clear vision.
I highly recommend Carrot Eye Center to anyone and everyone! Dr. Hammond and his office staff where amazing from start to finish with my LASIK surgery. Carrot Eye Center exceeded my expectation. I will refer all my family and friends! Thank you Dr. Hammond for the freedom of NO glasses and contacts!
Do I Need Laser

Eye Surgery?

Many patients who've received LASIK surgery from us wish they hadn't waited so long. If you qualify for LASIK surgery and are looking to enjoy clear vision without the hassle of corrective eyewear, it's time to start exploring your options. At Carrot Eye Center, we can help.
Laser Eye Surgery in Mesa
Refractive surgery at Carrot Eye Center is different from the rest of the industry because we aren't limited to standard LASIK. Instead, we analyze your needs using precise imaging and analysis, and build a customized procedure combining some of the industry's latest techniques and equipment.
When you choose us to perform your LASIK surgery, you'll be treated like family from the first time you talk to one of our doctors about your options. We're fully committed to providing you with the best LASIK experience possible, and that means sparing no expense in providing you with clear vision.
Schedule Your Free Consultation!
What is the Recovery for LASIK Surgery Like?
When you get LASIK at Carrot Eye Center, we assure a smooth recovery. We only use cutting-edge surgical technology to provide the least invasive procedures possible, meaning that recovery will be easier with us than it is anywhere else. After your vision correction, we'll schedule regular follow-ups to discuss any further needs.
During your follow-up appointments, your doctor will continue to check for proper healing to ensure you're enjoying your best vision possible.
LASIK Surgeons in Mesa
Carrot Eye Center is led by Dr. Michael Herion, M.D., and Dr. Matthew Hammond, M.D. Both board-certified ophthalmologists, Dr. Herion and Dr. Hammond share a passion for making eye care a VIP experience for all of their patients. They started Carrot Eye Center with the commitment to helping people from all different backgrounds live life to its fullest with healthy eyes and clear vision.
BOTTOM LINE:
WE WANT THE BEST CARE FOR YOU